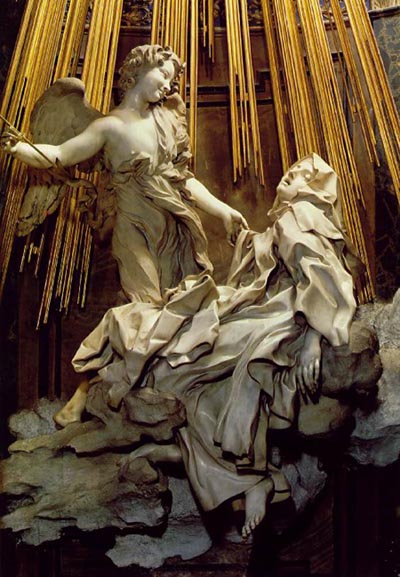 Happy Feast of Saint Teresa of Avila, Virgin, Doctor
Monday, 15 October 2007, On the Memorial of her Transverberation of Heart
b. 1515 d. 1582

Teresa of Avila was born a Spanish noble, the daughter of Don Alonso Sanchez de Cepeda and Doña Beatriz. She grew up reading the lives of the saints, and playing at "hermit" in the garden. Crippled by disease in her youth, which led to her being well educated at home, she was cured after prayer to Saint Joseph, to whom she kept a great devotion to throughout her like. Her mother died when Teresa was 12, and she prayed to Our Lady to be her replacement. She was famed for her beauty; this was both a cause for youthful licentiousness and later conversion and conviction to enter religious life. Her father opposed her entry to religious life, so she left home without telling anyone, and entered a Carmelite house at 17. Seeing her conviction to her call, her father and family consented. Soon after taking her vows, Teresa became gravely ill, and her condition was aggravated by the inadequate medical help she received; she never fully recovered her health. She began receiving visions, and was examined by Dominicans and Jesuits, including Saint Francis Borgia, who pronounced the visions to be holy and true. She considered her original house too lax in its rule, so she founded a reformed convent of Saint John of Avila. She founded several houses, often against fierce opposition from local authorities, and yet stated "May God protect me from gloomy saints," and governed her convents thus. Later, having made the acquaintance of Antonio de Heredia, prior of Medina, and St. John of the Cross (who became her spiritual director), she established her reform among the friars. She is a renowned mystical writer, celebrated for her Autobiography, her Interior Castle, and her Way of Perfection. She died 4 October 1582 at Alba de Tormes in the arms of her secretary and close friend Blessed Anne of Saint Bartholomew. Her body is incorrupt with the relics preserved at Alba; her heart shows signs of Transverberation (piercing of the heart), and is displayed, too. She was beatified in 1614 and canonized in 1622 by Gregory XV. She wasproclaimed a Doctor of the Church on 27 September 1970 by Pope Paul VI. The requisite elements required to be endowed with the title 'Doctores Ecclesiae' are enumerated as three: eminens doctrina, insignis vitae sanctitas, Ecclesiae declaration.

She is, therefore, a great friend and guide to the life of faith and reason.

God gave us faculties for our use; each of them will receive its proper reward. Then do not let us try to charm them to sleep, but permit them to do their work until divinely called to something higher.

-St. Theresa of Avila


1 Comment:
mystical_rose84 said...

Tuesday, October 16, 2007 6:03:00 PM

 

Thanks for sharing her life and the beautiful picture!